Jurassic World: Dominion Dominates Fandom Wikis - The Loop
Play Sound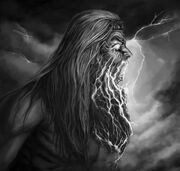 Ukko, also known as Uku, Perkele, Äijä, or Äijö, was the Finnish god of the sky, weather, harvest, fire, the oak tree and thunder, and the leader of the pantheon, whose worship also existed in the area of modern day Estonia.
Overview
[
]
Ukko was Finnish god of the sky, who appeared in the form of an old human male. He was usually paired with the Rauni, producing a sky-earth pair similar to the Greek Ouranos and Gaia, the Sumerian An and Ki or the Vedic Dyaus and Prithvi. It is also speculated that Ukko might have appeared in the form of an eagle, who gifted fire to to humanity. This tradition might connect him to ancient Indo-European religions, where eagle-imagery was also common.[1]
Ukko shared warrior-attributes with other European thunder-gods (Thor, Perun, Perkūnas), and he was usually depicted carrying either a hammer or an axe, called either Ukonvasara or Ukonkirves. Another weapon used by Ukko was also his bow and arrow, which manifested as natural phenomena: his bow was the rainbow and the arrows the lighting which hit the ground. Another source for thunder was when he rode in his chariots across heaven or made to love to Rauni.[2]
Ukko was a very revered deity in ancient Finland, since he was the god of the weather and the rain, he was very important for the practice of agriculture. As the head of the pantheon, he was also often invoked in spells, such as healing, and called to protect women and children during childbirth. Ukko and his control over the weather was to be both feared and respected.[3]
It is speculated that Ukko might not have been the original sky-god in the Finnish pantheon, the first one being Ilmarinen, who constructed the dome around the world. At some point to Ukko rose as the head god, which Ilmarinen becoming an earthly hero and blacksmith.[4]
Symbols of Ukko
[
]
Ukonvaaja: Ancient stones that were said to have dropped from Ukko in the heavenly realm, and which were used in different types of magic, notably healing. They were also seen associated with fire.[5]
Ukon vakat
[
]
TBA
Ukko in Pop Culture
[
]
Ukko is featured as a minor figure within the universe of the Marvel-comics.
Ukko appears in the 2014 free-to-play online social strategy game Destiny of Spirits.
Ukko (or Perkele) is featued in the DMM R-18 online game Kamihime Project.
Ukko (or Perkele) is featured in the Japanese digital collectible card battle game Rage of Bahamut.
In the 1968 The Time Twister by Emil Petaja, an extraterrestrial being poses as Ukko.
Ukko is the name of dwarf in the Sláine-comics in British magazine 2000 AD.
References
[
]
Gallery
[
]
Counterparts
[
]
Links
[
]