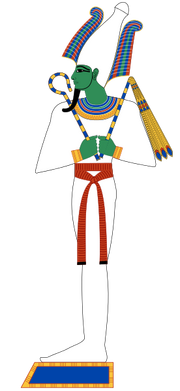 Osiris was an important god in ancient Egyptian mythology.
Un-nefer
[
]
Osiris was sometimes called Un-nefer, or Wenenu (or Unnu), and was portrayed with the head of a hare. As Un-nefer, Osiris was sacrificed to the Nile each year to facilitate the annual flooding which brought renewal of the land and crops. Un-nefer has been translated variously as "The Good Being" or "The One Who Brings Good into Being" or "Beautiful Renewal." Un-nefer is regarded as the male counterpart to Wenet.[1]
The hieroglyph for "Wn" symbolized the very essence of life itself, and depicts a hare over a single ripple of water, the very substance from which life first appeared out of the primordial waters of Nun in ancient Egyptian creation myths.[1]
Egyptian cosmology
[
]
In one Egyptian cosmogonic belief, the world sprang from an egg—half of the shell became the sky, the bottom half became the earth, and the yolk symbolized the sun. Ra (or Re) emanates from the egg and rises as the sun, with his offspring procreating to form the sky (Nut) and the earth (Geb).
Osiris, the slain and resurrected god of the underworld, shared symbolism with his great-grandfather Ra. According to the Encyclopedia of Ancient Egypt, "the hare (Osiris) was a divine creature called Weni, or Wen-nefer . . . an insignia of Re's rising as the sun and also of the resurrective powers of Osiris."[2]
Egyptian cosmology
[
]