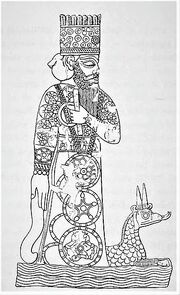 Marduk was a Mesopotamian chief deity, who presided creation, water, vegetation, judgment, and magic, as well as the patron of the ancient city of Babylon. He is the protagonist of Enūma Eliš, the Babylonian creation myth.
Like many other ancient deities, Marduk was one of the earliest pagan gods and the child of Ea and Ninhursag. He would eventually battle the ancient monster Tiamat, kill her and create the world out of it.
He would go on to marry the goddess Sarpanist and father to the god Nabu, he is also often accompanied by the Mushussu, a chimeric being.
Names of Marduk
[
]
MARDUK – The Lord of Lords
MARUKKA – Knows all things
MARUTUKKU – Master of the Arts of Protection
BARASHAKUSHU – Worker of Miracles
LUGGALDIMMERANKIA – Put order into Chaos
NARILUGGALDIMMERANKIA – Sub-Commander of the Wind Demons
ASARULUDU – Wielder of the Flaming Sword
NAMTILLAKU – A most secret and potent Lord
NAMRU – Dispenses wisdom
ASARU – This Power has knowledge of all plants
ASARUALIM – Possesses secret wisdom
ASARUALIMNUNNA – Power that presides over armour
TUTU – Silences the weeping
ZIUKKINNA – Knowledge of the stars
ZIKU – This Power bestoweth Riches
AGAKU – Lord of the Amulet
TUKU – Lord of Baneful Magick
SHAZU – Knows the thoughts of those at a distance
ZISI – Reconciler of enemies
SUHRIM – Kills easily, and without thought
SUHGURIM – Foe who Cannot be Appeased
ZAHRIM – A Warrior among Warriors
ZAHGURIM – A most terrible opponent
ENBILULU – Knows the Secrets of Water
EPADUN – Lord of all Irrigation
ENBILULUGUGAL – Power that presides over all growth
HEGAL – Master of the arts of farming and agriculture
SIRSIR – Master over the Serpent
MALAH – Lord of Bravery and Courage
GIL – The Furnisher of Seed
GILMA – Founder of cities
AGILMA – Bringer of Rain
ZULUM – Knows where and when to plant
MUMMU – Power to fashion the universe
ZULUMMAR – Giveth tremendous strength
LUGALABDUBUR – Destroyer of the Gods
PAGALGUENNA – Possessor of Infinite Intelligence
LUGALDURMAH – Lord of the Lofty Places
ARANUNNA – Giver of Wisdom
DUMUDUKU – Knower of the Secret Name
LUGALANNA – Power of the Eldest of the Elder Ones
LUGALUGGA – Knows the Essence of all Spirits
IRKINGU – Captured the Commander of the Ancient Ones
KINMA – Judge and Lord of the Gods
ESIZKUR – Knowledge of the length of Life
GIBIL – Realm of the Fire and the Forge.
ADDU – Raises storms
ASHARRU – Knower of the Treacherous Ways
NEBIRU – Spirit of the Gate
NINNUAM – Decider of Decisions
Counterparts
[
]