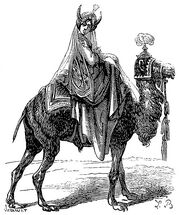 Gremory, also known as Gemory, Gamori, Gaeneron, Gemon, or Gemyem, is a Duke of Hell within Christian demonology.
Lesser Key of Solomon
[
]
The Fifty-sixth Spirit is Gremory, or Gamori. He is a Duke Strong and Powerful, and appeareth in the Form of a Beautiful Woman, with a Duchess's Crown tied about her waist, and riding on a Great Camel. His Office is to tell of all Things Past, Present, and to Come; and of Treasures Hid, and what they lie in; and to procure the Love of Women both Young and Old. He governeth 26 Legions of Spirits, and his Seal is this, etc.